This is a great way to cover the 9th art with your family! The arts festival Rencontres du 9e in Aix-en-Provence offers many fun events for children.
Appointments not to be missed
Free workshops by registering here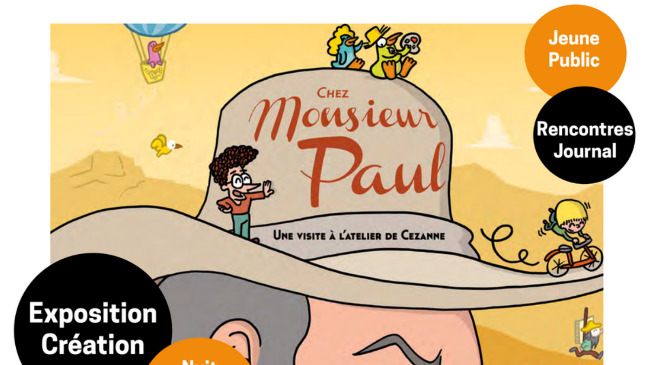 Around the exhibition Chez Monsieur Paul
Christopher Battalion
creation
Exhibition from March 26th to May 28th
The Rencontres du 9e Art entrust Christophe Bataillon with a kind of carte blanche. Of his graphic universe, this writer and illustrator specialized in youth guides us step by step, Cezanne's universe revisited with the sauce of his paint tubes. Christophe Battalion imagines a double proposal.
An exhibition in shape a walk punctuated by learning and hands-on games installed in the large garden surrounding the Lauves workshop, the last workplace of the painter from Aix, and a drawn newspaper, a real play and educational object for the general and young public and educational for the general and young public.
Offered dates:
Learning while having fun is always more interesting. An outdoor journey, like a big open-air playbook, to discover the world of Cezanne in a different way. An intimate rendezvous in an idyllic location steeped in history.
« INSTALLATIONS AGAINST NATURES MORTES »
Handling workshop // 6 – 8 years old
In the manner of the painter and from everyday objects, each child is invited to compose a "still life" while working on perspective.
• Wednesday April 6, Monday April 11, Wednesday April 20 at 2:00 p.m
• Friday, April 15 at 10:30 am
"GET OUT OF THE FRAME"
Cutting workshop // 9 – 11 years old
Various photos of the Cezanne workshop will be presented to the participants. Choose one, crop it and then cut it to define the frame of the image used in comics as well as painting and cinema.
• Monday 11 April, Wednesday 20 April, Wednesday 25 May at 10.30am
• Friday, April 15, 2022 at 2 p.m
"FROM PAINTING TO BD"
Comic workshop // 8-10 years old
Invent a story in 4 boxes based on a painting by Cezanne. The famous painter's models become comic book heroes.
• Saturdays April 9, April 23, May 7, May 21 at 2:00 p.m
Where from ? Atelier Cezanne 9 Av. Paul Cézanne.
When ? Exhibition to be discovered every day from 9:30 a.m. to 12:30 p.m. and from 2:00 p.m. to 6:00 p.m. Closed May 1st.
---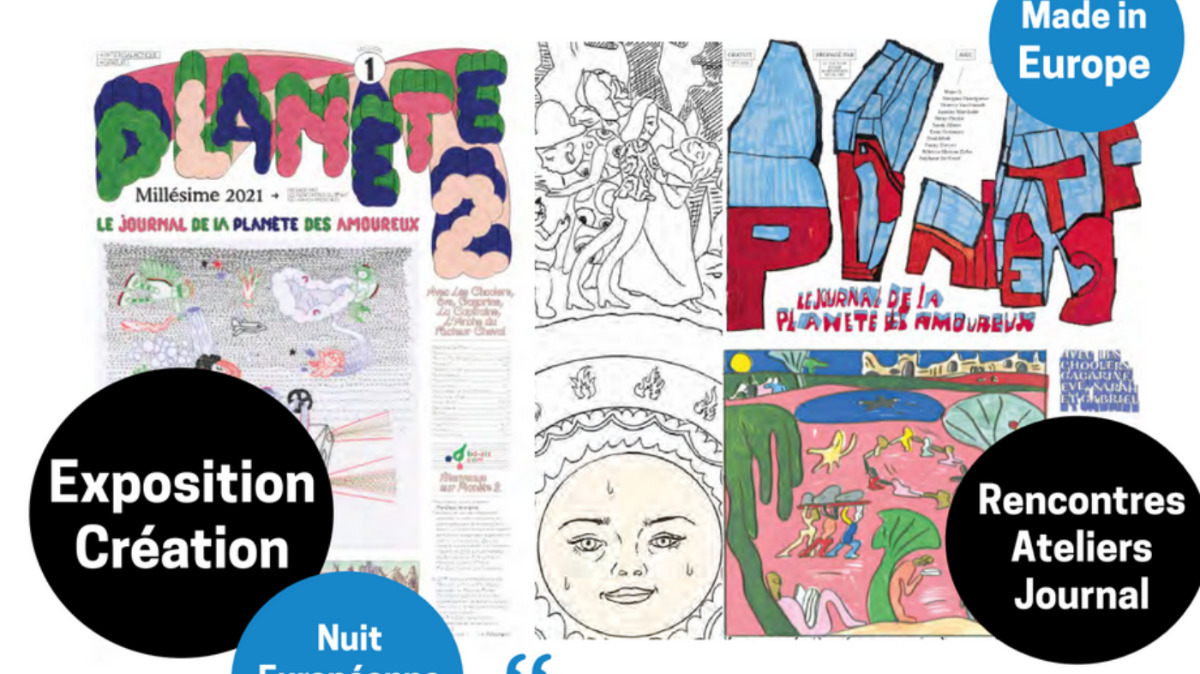 Around the Planet 2 exhibition
artist collective
Exhibition to discover until May 21st
Planète 2 is a graphical new territory to explore. An unknown land, in the direction of which several expeditions of a different kind set out to discover it. The crew consists of astronauts – outsider artists, accompanied by several learned illustrators and international comic writers.
AUTHORS
Stéphane Degroef, Thisou, Thierry Van Hasselt, Marcel S, Frédéric Coche, Jean Leclercq, Nausicaa Gournay, Eric Lambe, Sarah Albert, Evan Gotmann, Dominique Goblet, Etienne Beck, Zoe Jusseret, Valfret, Joseph Calioni, Paz Boïra, Margot Preham, Margaux Duseigneur, Antoine Marchalot, Remy Pierlot, Doublebob, Fanny Dreyer, Rebecca Moreau Zieba, Irène Gérard, Fanny Michaëlis, Katia Fouquet, Hélène Jeudy, Mathilde Van Gheluwe, Helgue Reuman, François de Jong…
Offered dates:
"SPECIAL VESSELS"
Drawing workshop – 6 – 9 years old
Each child becomes an engineer and designs their ship to visit Planet 2.
Any ship can fly thanks to the fuel generated by the creative energy of the participants. Inspired by the panels and photos of reference UFOs presented in the exhibition, let's imagine an original flying machine together!
• Wednesday April 13, Wednesday May 11, 2 p.m
•Thursday, April 21, at 10:30 am and 2:00 pm
"THE DIARY OF THE LOVERS PLANET"
Writing and illustration workshop – 9 -12 years old
The children board the ship of their choice, pencils – paints – notebooks under their arms to trace and transcribe their adventures. Questions: Can a landscape be in love?
How do you get from words to shapes and vice versa?
• Wednesday April 6, April 27, May 18, Saturday May 21 at 2:00 p.m
• Thursday, April 14 at 10:30 am
Where from ? Tapestry Museum, 28 Pl. des Martyrs de la Résistance.
Exhibition to be discovered every day except Tuesday from 10:00 a.m. to 12:30 p.m. and from 1:30 p.m. to 5:00 p.m. until April 14th. From April 15th closed every day except Tuesday from 10:00 to 12:30 and from 13:30 to 18:00 May 1st.
---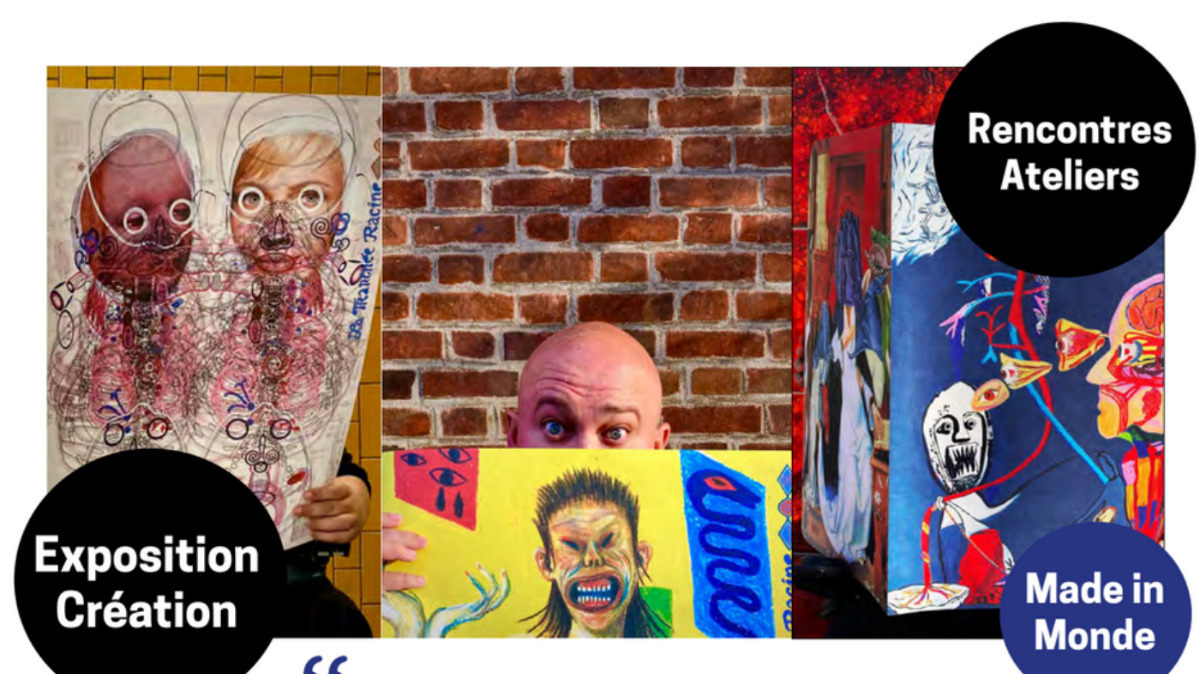 Around the exhibition At the Root
Stephane Blanquet and Co
creation
Exhibition to discover until May 28th
"Blanquet shocks, provokes, disturbs, creates discomfort by manipulating our frustrations and his own obsessions"
The suggested date:
STUDIO PERFORMANCE
From 11 years
A mind-blowing workshop combining readings of poetic texts by Michaux and Artaud. From a device close to artistic performance, anyone can try to create their own electricity, an alternating current! On the menu: graphic design, copywriting and on-site voice acting.
• Saturday 2 April 2022, Wednesday 13 April, Friday 15 April, Saturday 16 April at 2pm and 4pm
• Saturday 30 April, Wednesday 4 May, Wednesday 11 May at 2pm.
Where from ? Galerie de la Manufacture 8-10 rue des Allumettes, Tuesday to Saturday from 10am to 7pm
---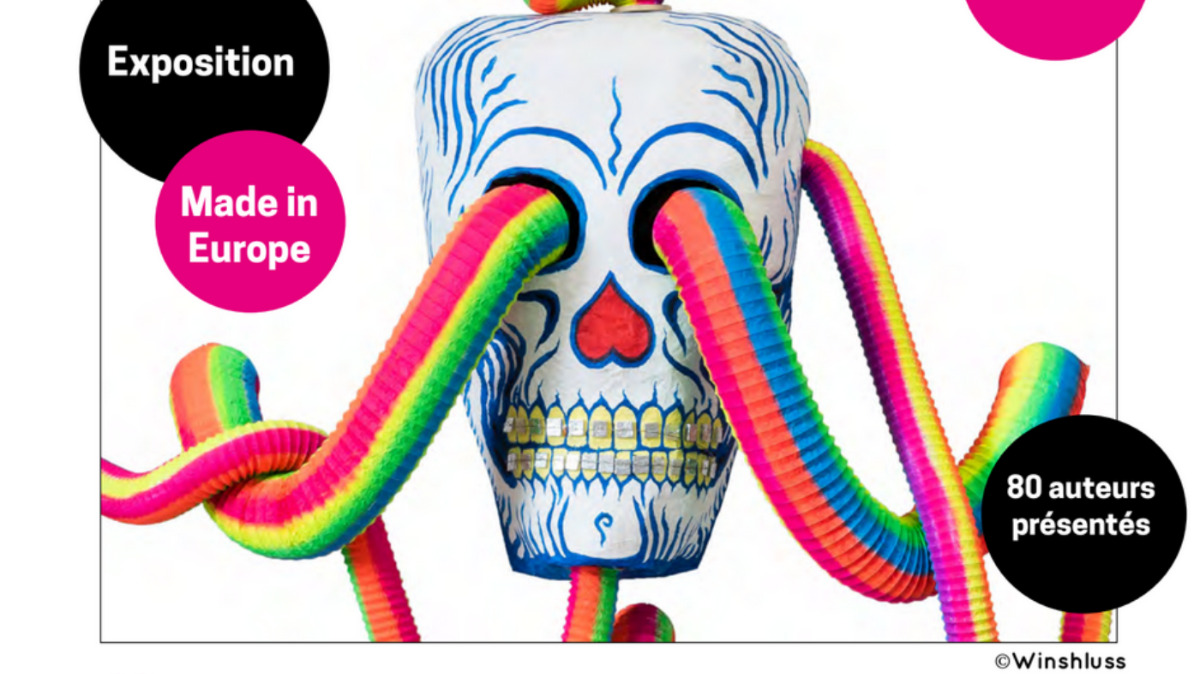 All about the exhibition Not Even Dead
Collective of artists – 80 artists presented
Exhibition to discover up May 21st
The suggested date:
"SKULLS THAT CRANE"
Drawing workshop – 8-12 years old
Draw a "skull" inspired by the different artistic influences of the featured authors. Each child creates a work in the colors of life from stencils!
• Thursday April 14, 2022, Wednesday April 27, Wednesday May 4, 2022 at 2:00 p.m
• Tuesday April 19, Friday April 22 at 10:30 am and 2:00 pm
• Wednesday 18 May at 10:30 am
Where from ? Library Méjanes Allumettes 8-10 rue des Allumettes, Tuesday to Saturday from 10am to 7pm
---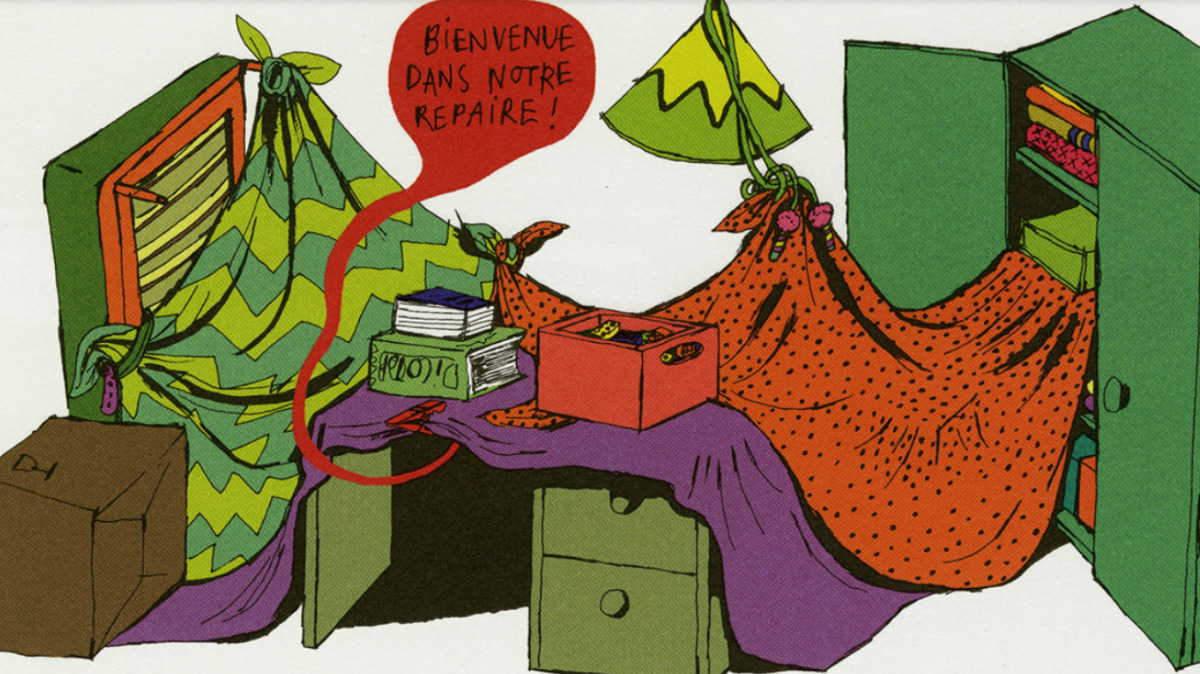 The best hideout in the world
Until May 21st
What's going on in Leia's building? One rainy day, while she is building huts, an anteater suddenly appears in her room, a jungle invades the entire apartment, two children and their parents fall in search of their missing aunt…
No more boredom! Make way for the investigation for Leia and her friends!
ENTER THE COMIC STRIP IN 3D!
A didactic exhibition that offers an immersive and interactive device. The heroine's room is reconstructed in size and volume. The young audience, comfortably seated in this space cabin, discovers the world of comic strips, which leaves its boxes and lives the adventure in relief in a lively journey of discoveries and visual surprises.
3D illustration workshop for 7-10 year olds
Immerse yourself in the jungle by making your own 3D glasses and your illustration will be larger than life!
April 2, 21, 22 and 27
May 4th, 14th and 18th
Where from ? Méjanes Allumettes Library
8-10 rue des Allumettes, Aix en Provence
Tuesday to Saturday from 10 a.m. to 7 p.m
For free
---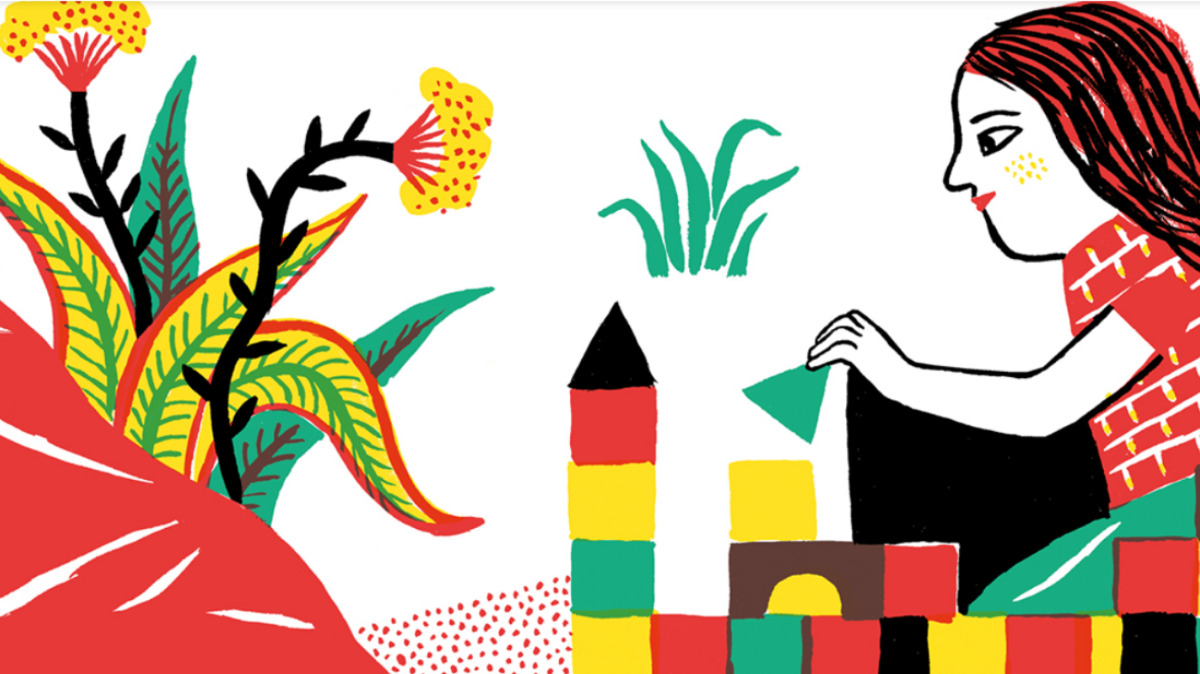 Anna sings
Sonia Paoloni and Eloise Rey
Until May 21st
Anna Who Sings is a tale unnerved by bugs about a terribly tyrannical king
oppresses his country and keeps young Princess Judith imprisoned.
When he goes as far as kidnapping the little girls of the kingdom to occupy it, the cup is full! Anna, a 9-year-old child, will turn everything upside down with a powerful and hopeful song, so powerful it could petrify the king and bring joy back to the kingdom…
AN INTERACTIVE EXHIBITION THAT CAN BE DISCOVERED BY SINGING
In a colorful journey and a scenography adapted to young audiences, life-size modules invite the public to discover new illustrations presenting six songs and their authors (lyricists, musicians or anonymous as the case may be), accompanied by a hearing aid for all .
Various workshops for 7-10 year olds
Make a hodgepodge of characters from the Anna Who Sings album and bring your singing hero to life.
April 6th, 30th and May 11th
Exhibition to discover in the Méjanes library of Deux Ormes
Avenue of almond trees Jas de Bouffan, Aix en Provence
Tuesday, Wednesday, Friday and Saturday
10 a.m. to 1 p.m. and 2 p.m. to 6 p.m
For free
Free workshops by registering here