Presidential election 2022. When asked by aufeminin, Philippe Poutou explained the positions on education and advocated a change in the approach to sex education.
Asked by aufeminin, Philippe Poutou explained the measures he intends to take if he is elected President of the Republic on April 24th. The NPA candidate for the 2022 presidential election spoke about his vision on various topics such as women's rights, equality between women and men or women's rights in the workplace. He expressed his wish that all doctor's appointments should be free and covered by social insurance.
Philippe Poutou explained his vision of education. He confidently explained how he wants to change sex education: "should have comprehensive sex education that is designed to be cross-sectoral and involves professionals in the educational pathway"He also wants to develop school programs and textbooks with an appetite for more."including non-binary / female / LGBTI writers and not to highlight any more authors who reinforce patriarchy, this will be done in particular through the irrigation of school programs and the training of teachers for research in Gender Studies …"
Latest news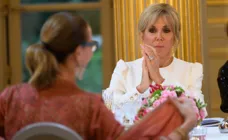 Presidential election 2022: Philippe Poutou's positions on education
Sex education is now compulsory in middle school and high school, but little practice. How do you intend to enforce it?
Sex education needs to be integrated even more than it is now, and not just from a reproductive perspective into SVT programs, but not only. The recent We All report has clearly demonstrated that very little is addressed in relation to sexuality other than biological issues and SVT teachers are not necessarily the most skilled or the only ones able to address issues related to sexuality, on emotions, on consent, on gender identity… In short, there should be a full sex education that is transversal and involves specialized actors in the educational pathway.
Club work is very important and must be further expanded (recognition of the charitable status of these clubs by the Ministry).
Do you plan to teach gender equality from elementary school?
Yes, of course it is even an essential aspect in the fight against sexism, violence, harassment, etc. It is also an essential element for serenely exploring one's own gender and sexuality in adolescence and later in adulthood.
Textbooks, study corpus, women are underrepresented in the courses: how can you remedy the situation?
This concern must have a more prominent place in national education. This requires sociological work (such as the Hubertine Auclert Center which developed the Fiare guide to textbooks and tools for equality) to raise teachers' awareness; as well as in the management of examinations and controls (school corpus) as well as in teaching programs. This work will serve to include non-binary/female/LGBTI writers and no longer highlight writers who reinforce patriarchy, this will be done in particular through the irrigation of school curricula and the training of research teachers on gender studies issues…
The Bac reform has led to a brain drain by young girls from science subjects. How do you intend to make it easier for women to access so-called male jobs?
We are for a common school, from kindergarten to high school. In this sense, we advocate a teaching related to both scientific knowledge and know-how, both in general, technical and professional disciplines for everyone. There would no longer be a "common core" or "specialty" and the hourly rates would be the same for all young people.
We are against the idea that school should prepare you for a job. On the contrary, the school must be a place of learning and self-confidence building in order to allow everyone's emancipation in a collective framework. It must be possible to determine the respective profession after the Abitur during the course of study. Therefore, we advocate a pre-wage for young people of 75% of the minimum wage (upgraded to €1,800) for self-employment, so that everyone has time to devote full time to their studies.
In addition, we advocate equal pay for women and men and an upgrading of arduous (and so-called "feminine") professions in order to eliminate competition and gender orientation between the various professions.
Responsible for the content of Aufeminin, Philippe is passionate about current events, whether they are (many) social issues or even culture, TV programs, SVOD programs etc.