>>Teacher's love for visually impaired students
>>A young American on a heart mission in Vietnam
>>Special attention for disabled children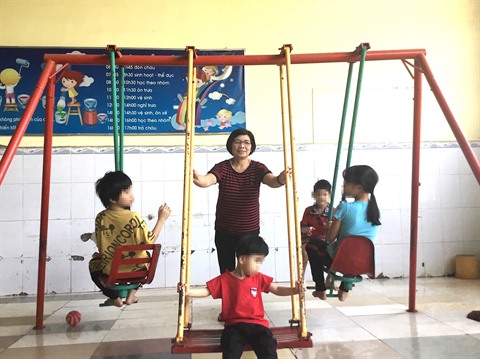 Pham Thi Hông and her disabled children in Pleiku.
Located in Ia Kring District of Pleiku, Gia Lai Province (Central Highlands), the Pham Thi Hông Disabled Children Care Center covers an area of ​​several hundred square meters, has a play room, a classroom, a reading room, a bathroom, a kitchen and a dormitory.
When we were there, this 63-year-old woman was having fun with the children in the yard. His hand quickly picked up food for one child and then turned to lead another child to read the lesson. Then there was a child who wanted to use the toilet and she quickly got him there. Sometimes a child would cry and she would rush to his side to comfort him.
In a 30 minute observation, we saw him doing all sorts of small and big things to take care of disabled children. Her face always reflected the joy and happiness of the work she was passionate about.
Currently Mme Hông takes care of about forty deaf, mute, autistic and cerebral palsy children… Most of them are orphans and 25 children have no families. The others, who have a father or a mother, study there part-time.
"Raising children with disabilities is inherently hard work, but teaching them is even harder. All study reading and writing. For children who are slow to understand, I teach them to recognize things around them and to be patient. So I have to live and eat with them full time day and night instead of living in my own room.' said M.me Hips.
This generous woman flipped the notebook over in bold writing and boasted, "It's a word written by an autistic child. At first he knew nothing. With guidance and tutoring he begins to speak more, then he can write and writes very well. There are many other deaf children who can also read and do arithmetic."
"A deaf child grew up here. He now has a family and opened a nail salon. I am very happy to see the children's progress. I see them as the engine of my age", she adds.
Caring for children wholeheartedly
23 years ago, Pham Thi Hông traveled to the city of Pleiku to set up a facility to educate handicapped orphans. Before that she lived in the southern metropolis and taught children with disabilities for 12 years.
Discussing his decision to leave Ho Chi Minh City for Pleiku, Mme Hong said: "I learned from the press that there was no facility specializing in caring for disabled orphans in this mountain town, so I decided to move to Pleiku. I've loved this job since I was young, but my parents always stopped me from doing it because they were afraid that I would work hard. I also chose Pleiku because of my relatives. This decision was seen as a +way out+ to fulfill my wish. After six months I returned to Ho Chi Minh City and brought my disabled children home. So my mother cried because I didn't want to get married. But 11 years later, my mother took that job."
In her early days in Pleiku, whenever she heard that there were abandoned children with disabilities, she asked for adoption.
At first she only cared for one or two children. Later, many people saw that she really had a heart for children, so they brought her some or showed her difficult situations to pick them up and raise them.
The financing of this humanitarian activity comes from the income of the coffee plantation. Mme Hông also did not marry in order to devote herself entirely to her children. She regards them as her own children.
"The work is tremendous, but I never feel bored or tired. I gave up work, money and youth because I wanted to take care of these children. I have sworn to continue the work of adoption until I am no longer of this world or have the strength' she confided.
Text and photo : Huu Phuc – Cam Sa/CVN