PMA, looking for a little soul by Céline Gandner and Pauline P is a playful comic about a woman's journey trying to have a baby on her own: useful and poignant!
In her forties and looking for meaning, Céline Gandner is leaving her dream job at France 5, where she worked for 21 years… and decides to have a baby alone.
This comic book tells of her PMA journey, her hopes, her pains and all the questions that move her day and night. Pauline P's colorful and cheerful drawings carry this story that grips you from the start.
While word is being released around the PMA, this very detailed course will come in handy. The screenwriter, whose true story it is, reveals everything from the financial and material aspect to the physical and psychological difficulties.
In hollow form, this comic invites women to reflect on their desire to become mothers or not, proclaiming the need to really open the PMA to everyone in France. The law was passed, but effective implementation is a long time coming.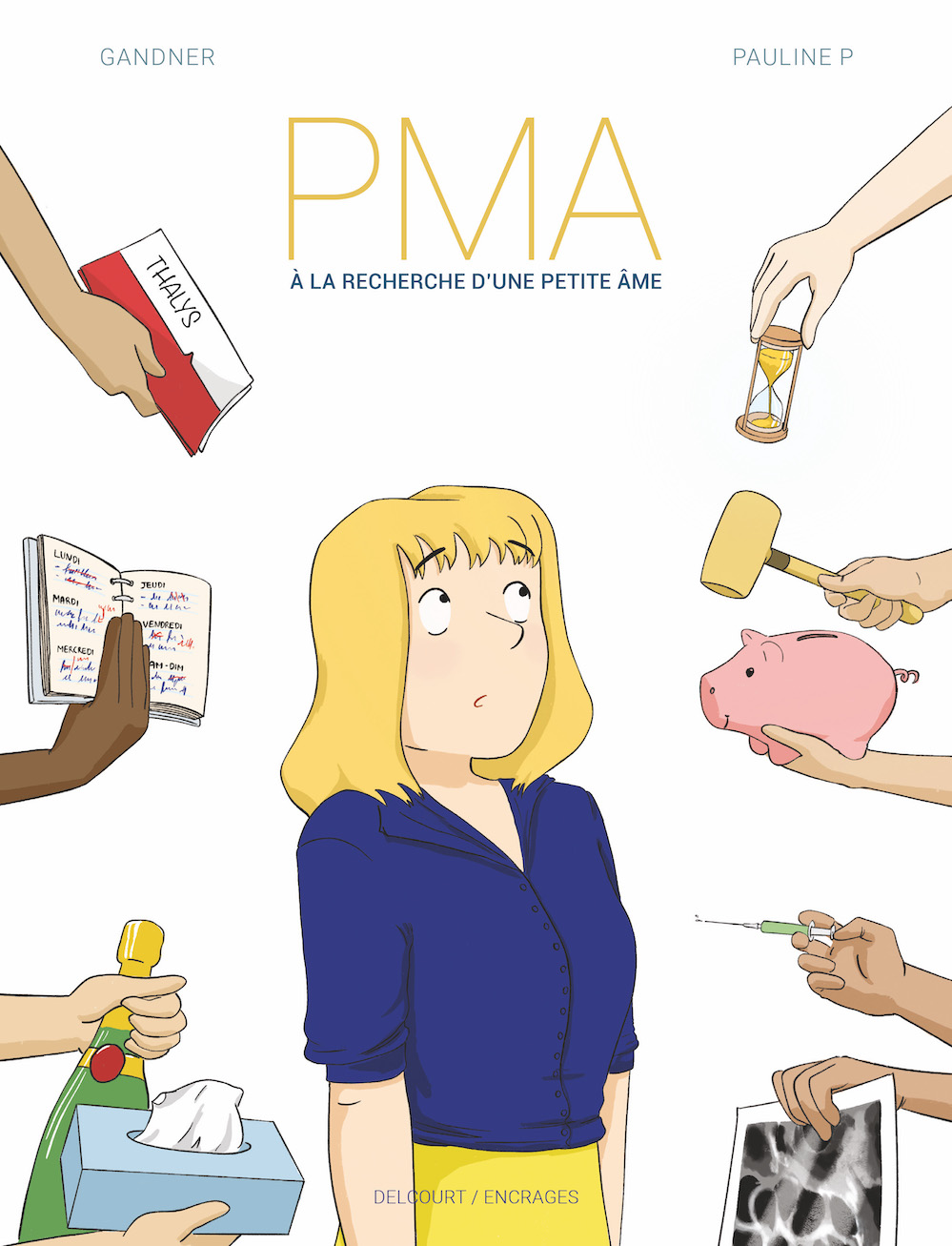 Celine's journey
In 2015, Celine Gandner turned down a proposal from a couple of gay friends to have a baby with her. She is tempted but then describes herself as not being very open at the moment because she doesn't want to give up a carnal relationship to procreate.
A few years later, she finds a parent, but the project is abandoned. Then, at the age of 43, she decided to try a PMA in Belgium, which was then illegal in France. So the author will try several artificial inseminations with anonymous donors. He is told that the donations come from Denmark.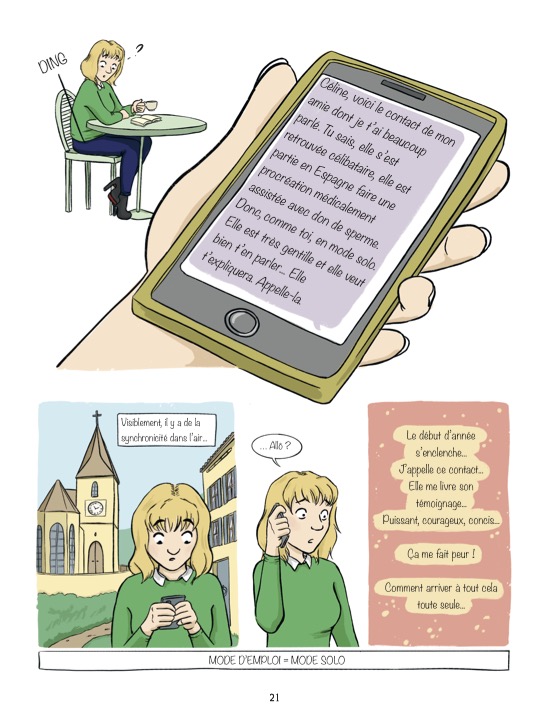 She feels bad, feels guilty that she didn't do it like the othersbut a useful word is repeated to him:
"You guys aren't failures…it's about timing…dating… Ways of life… Under no circumstances are you the result of an imbalance…"
The tedious examinations, the various injections to be made, the erudite calculations of dates and periods of fertility, the blood tests… And all the inconveniences that pervaded this life Waiting for ovulation and fertilization. But she also describes her burning, almost instinctive, desire to conceive. And whatever the circumstances, she never strays from a scathing sense of humor.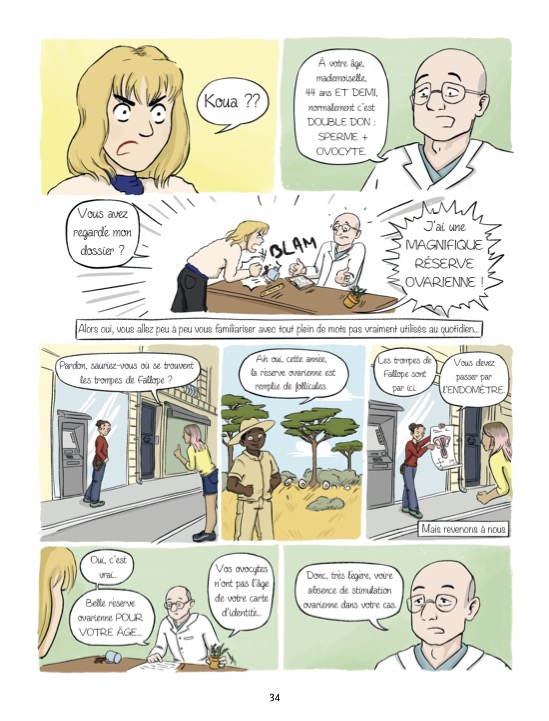 Fertility decreases with age
Without wanting to cause panic, Professor René Frydman, specialist in reproduction and the development of medically assisted reproduction, author of the foreword, is committed to ensuring that women are informed about the decline in their fertility so that nobody gets into a situation where she wants a child when it's too late, as in the case of Celine Gandner. He explains in the foreword:
"Information on this point should be systematically given by the social security system by post, as is already the case with breast and colon cancer screening or the practice of cervical smear testing.

From the age of 33, every woman can be alerted and, if necessary, brought to her check their ovarian reserve. Based on her hormonal and ultrasound data, she could then decide: either to accelerate the step towards pregnancy earlier than expected, or to consider egg freezing in order to conceive later (the law allows this since September 2021 in France) . »
At the age of 25, the chance of pregnancy (without contraception and with regular intercourse) is 25% per cycle. Between the ages of 30 and 35 we get 12% per cycle. By age 38, this rate drops to 5% per cycle.
The idea, of course, isn't to put extra pressure on the woman's back, more specifically her uterus. That's fine, thanks, they've had enough already! But to inform them so that they can decide with soul and conscience.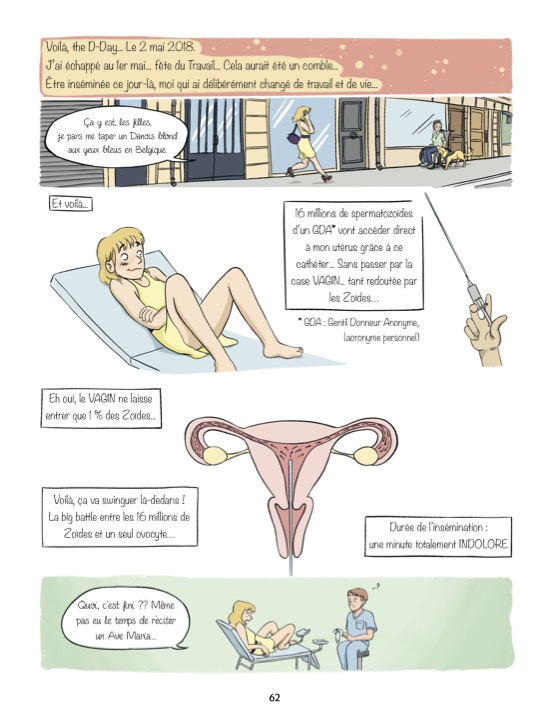 PMA for everyone
In this comic, Céline's journey is greatly complicated by the illegality of the trial in France and her obligation to go abroad. First of all, this has a financial cost, not everyone can afford it. In fact, Céline claims to spend 2,000 euros per month on this PMA. She has to rent her apartment and live from right to left.
The coming and going and the resulting loneliness are also not negligible, even if the author is very surrounded.
Professor Frydman writes in the foreword:
« PMA for all corresponds to the development of our society. Is it harmful for the child to have a child from a sperm donation?

From the studies we have, it appears that there are no disorders in children conceived in this way.

In any case, no more trouble than with a heterosexual couple, where the right upbringing of a child and its proper development are not guaranteed. »
We therefore expect that the PMA, now authorized in France, will be really accessible to everyone – single women, lesbian women, infertile women – because at the moment the means are not enough!


To get PMA, In Search of a Little Soul, by Céline Gandner, illustrated with talent by Pauline P, Delcourt, it's here!

Also read:

A mother on the edge of the abyss comes to life in this comic book that will touch your heart
Cover photo: © Delcourt