The Unbox Me campaign was launched by UNAIDS on the International Day of Transgender Visibility, celebrated on March 31st.
"For many of us, our gender identity is taken for granted, but for many children it is not so easy. It is a matter of daily survival, a daily struggle," said Mahesh Mahalingam, UNAIDS Director of Communications and Global Advocacy.
"Children everywhere need to be supported to freely express their identity," he added.
The Unbox Me campaign focuses on a shared experience for children, many of whom have boxes or stashes in which to store valuable possessions and trinkets.
These hidden objects can reveal a lot about the child, their tastes and dreams for the future.
For some transgender children, hiding treasure in a chest can become a way to hide their identity from disapproving eyes, UNAIDS said. Unbox Me helps them get visible.
Stigma, discrimination and criminalization tend to make transgender and gender-segregated people invisible, the agency added, with extreme forms of discrimination even leading to gender-denial.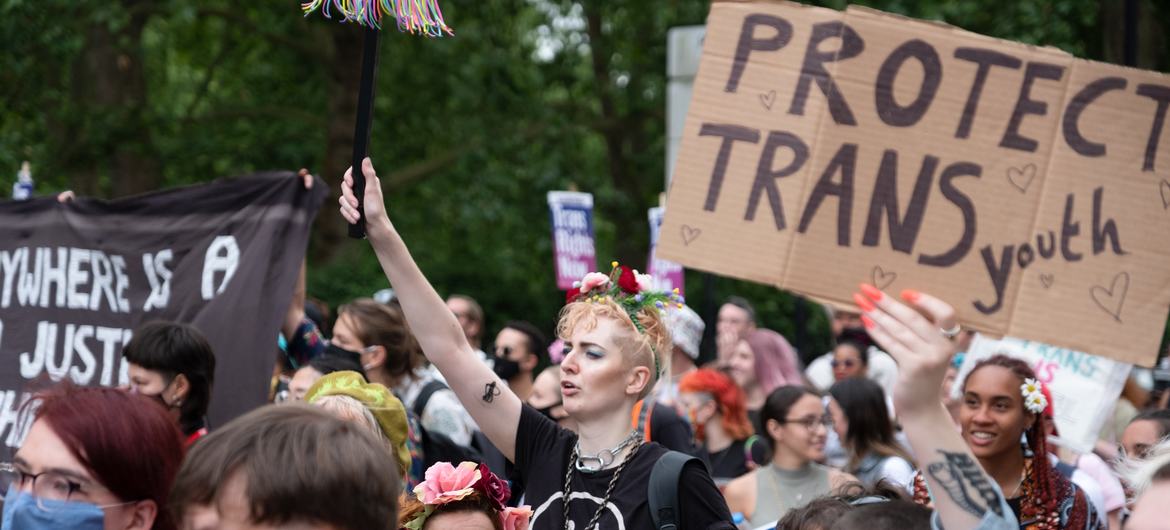 © UNSPLASH / Ehimetalor Akhere Unuabona
Demonstration in London, UK, for transgender rights.
acceptance and inclusion
The Unbox Me campaign originated in India, where more than 90% of transgender people leave their homes or are displaced by the age of 15. Many live on the streets without money and education or are dependent on sex work.
The campaign is now going global because its theme of acceptance and inclusion is universal.
All over the world, transgender people are often marginalized and suffer discrimination and violence. As a result, they are nearly 35 times more likely to contract HIV than other adults, according to the UN agency, which is working to eradicate the virus and end AIDS by the end of the decade.
Currently, transgender people are criminalized and prosecuted in about 24 countries. In the early stages of the Covid-19 pandemic, some governments even introduced gender mobility days during lockdown, leading to some transgender people being arrested for going out on the 'wrong' day.
UNAIDS works closely with the transgender community, civil society organizations and governments to decriminalize transgender people, secure their rights and ensure they have access to health, education and social protection and protection from abuse and exploitation.
collaboration and support
The Unbox Me campaign is part of a collaboration between UNAIDS and advertising agency FCB India.
Last year they teamed up for a hit short called The Mirror, which is about a boy who looks in the mirror and dresses up as a woman.
The film was part of the #SeeMeAsIAm campaign and served to raise awareness among parents, teachers and the community about children's gender identity.
"In India, children usually have a box where they keep their most prized possessions, but in the case of transgender children, they have to hide their treasure chest because some of their most prized possessions don't conform to the gender norm society expects them to conform to," said Swati Bhattacharya from FCB India, who conceived Unbox Me.
So far, the campaign has received support from the education community in India, UNAIDS reported.
Teachers in many schools across the country are using the boxes featured in the campaign as conversation starters to raise awareness of gender identity.
The campaign also featured many high-profile Indian figures and community leaders, including director Zoya Akhtar and TV presenter Barkha Dutt.