The Royal Family of Sweden organized their traditional Representation Evening this April 6, 2022. This official dinner had not been organized for two years for hygienic reasons. This Wednesday, King Carl XVI. Gustaf, Queen Silvia, Crown Princess Victoria, Prince Daniel, Prince Carl Philip and Princess Sofia all dressed up to welcome their guests to the Royal Palace.
Also Read: Queen Máxima Wears Aquamarine Tiara and Flowing Pastel Gown at State Banquet Honoring India's President
The Royal Family of Sweden on their 31st for a representative evening
The representative dinner of the Swedish royal family has a long tradition. Organized with pomp every year, this meal is an opportunity for King Carl XVI. Gustaf, in his capacity as head of state, to bring together deserving citizens and personalities from politics, culture and associations who are of outstanding importance in the country.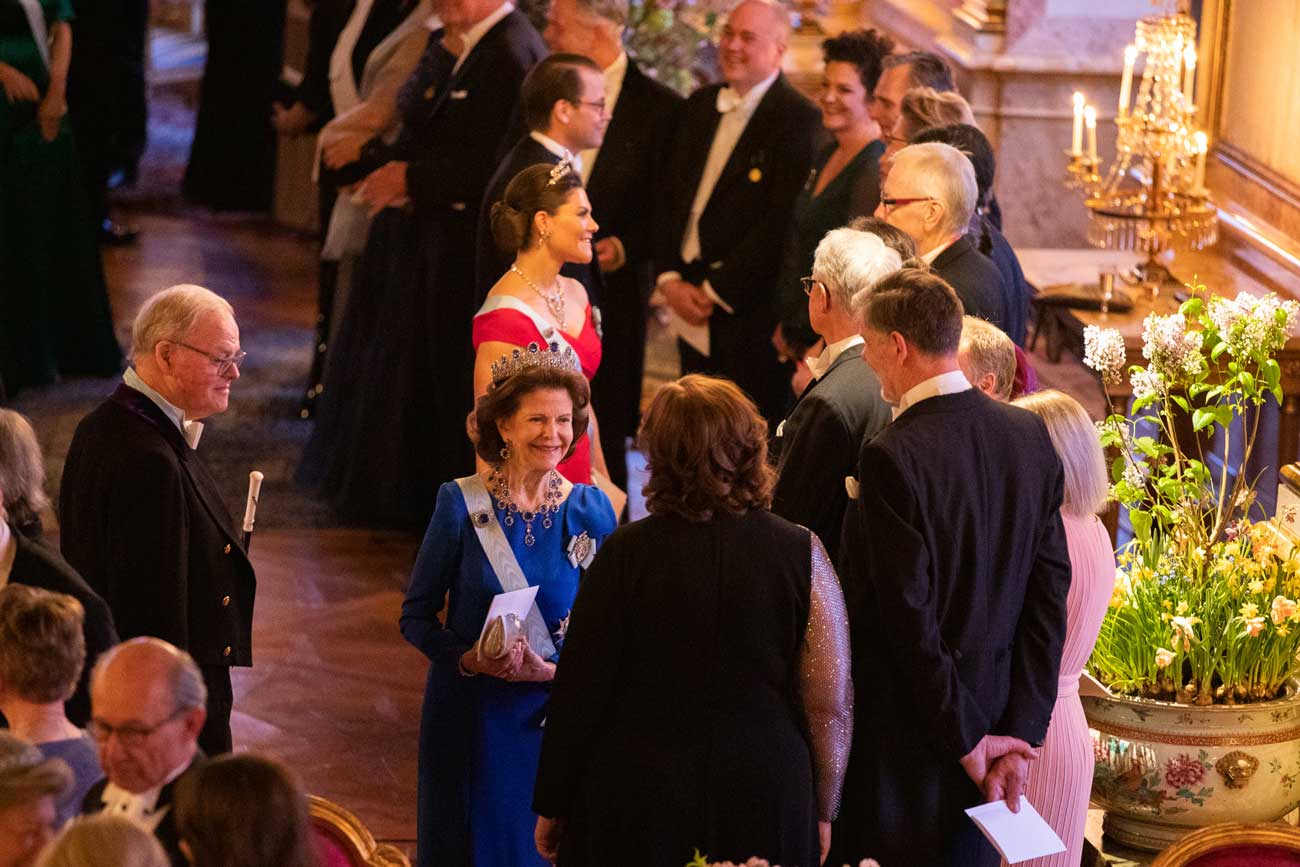 Among the guests were representatives of the diplomatic corps, the Reichstag, the government, high state dignitaries, but also representatives from science, sport, business and culture. Among these guests, the royal family could also find people to meet family members during their visits to the country throughout the year.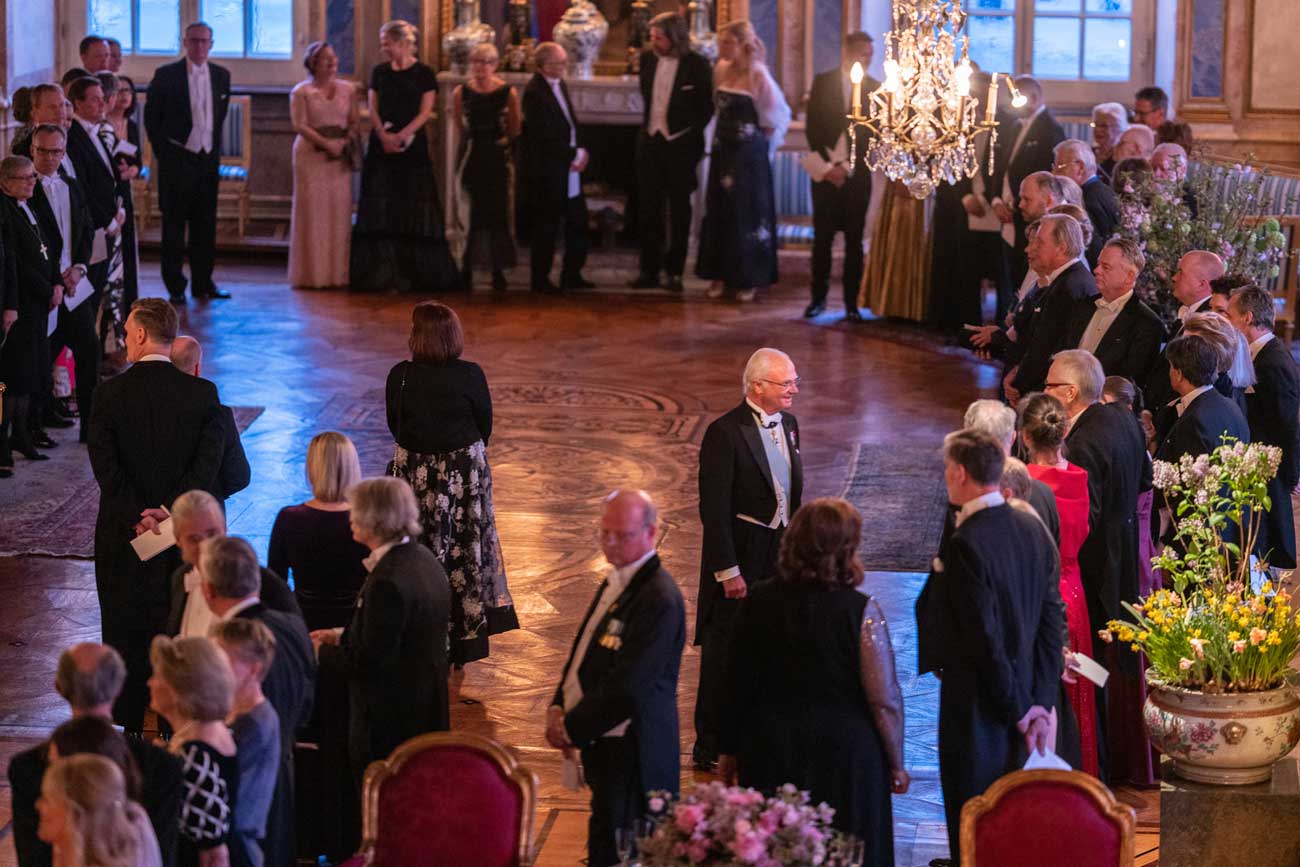 Also read: Victoria of Sweden wears the polished steel Napoleonic tiara in her new gala photos: a special tiara without precious stones
The royal family greeted the guests one by one before entering the gallery of Charles XI. of the royal palace, where the endless table was set. About 150 people attended this meal, which lasted late into the evening. After the meal, the royal family strolled around among the guests at coffee time.
Crown Princess Victoria wore a red dress with a train signed Pär Engsheden, with Boucheron's laurel wreath tiara on her head. Queen Silvia wore a German-made royal blue gown, while Princess Sofia pulled out her emerald green Dagmar gown, which she had previously worn to the 2016 Nobel Prize party. Princess Christina was also present at the party in a purple dress. All the princesses and the Queen of Sweden wore a tiara to match their outfit.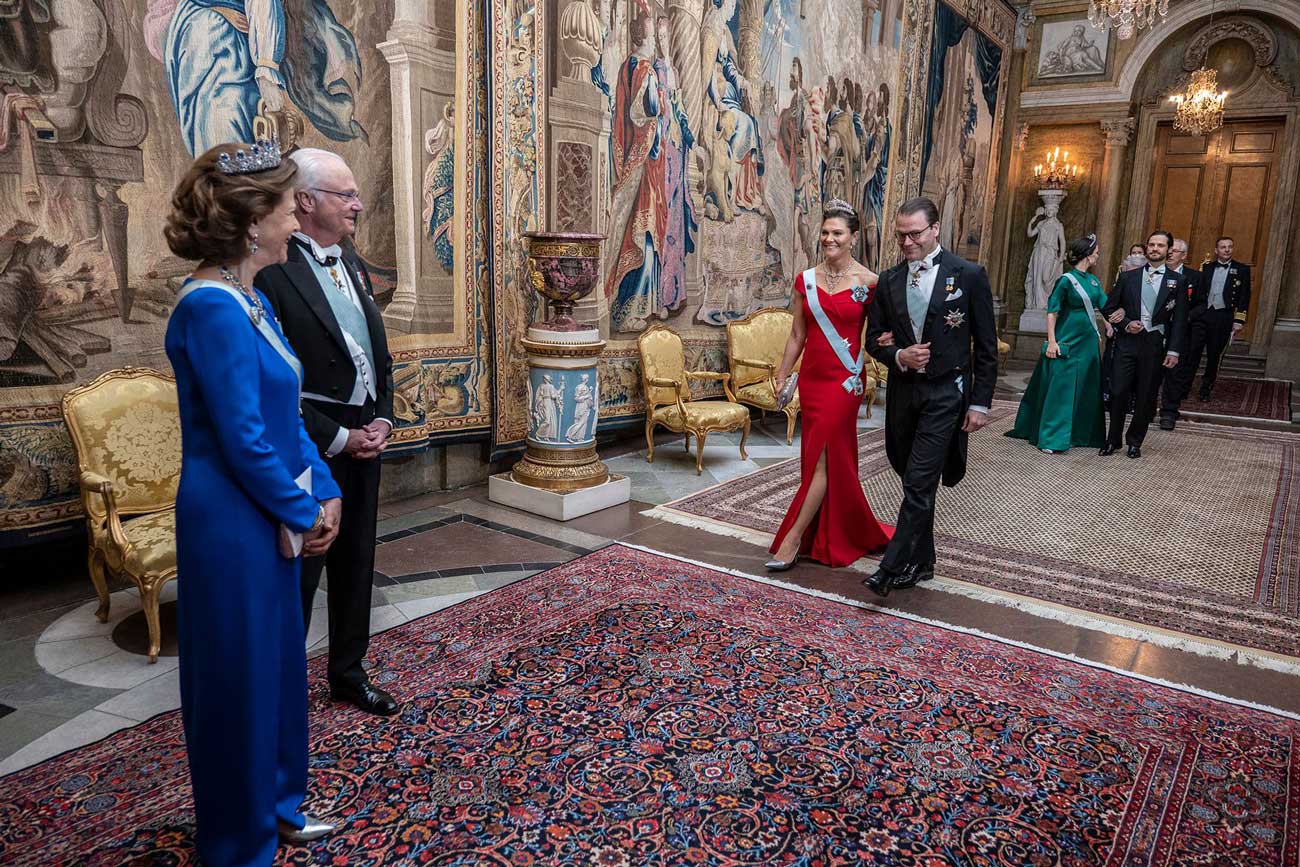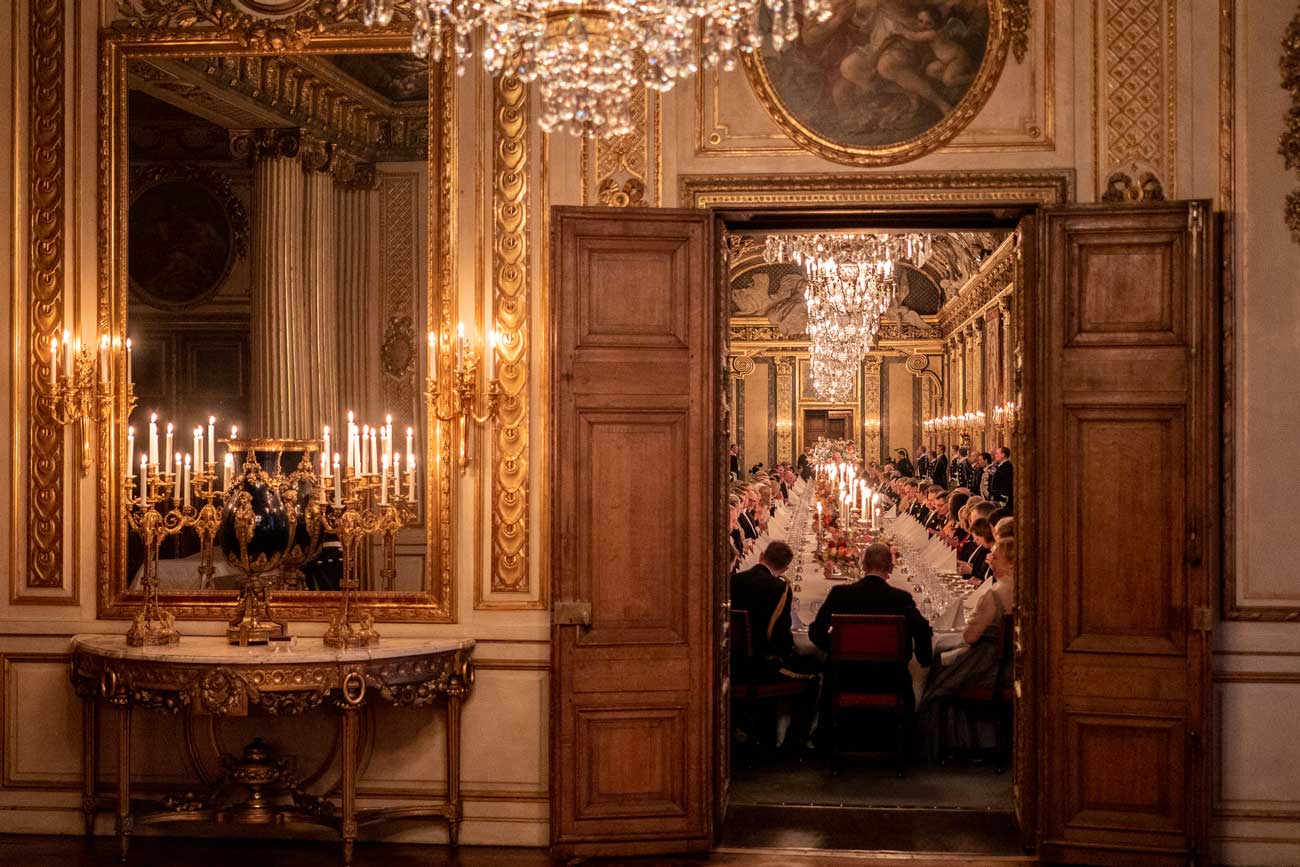 Also read: The aquamarine kokoshnik tiara worn by Victoria of Sweden at the state banquet honoring the Spanish rulers
An impressive Scandinavian menu is served at this performance dinner
No wonder the evening dragged on considering the menu the guests were offered for this performance dinner. Steamed king crab from Norway with marinated kohlrabi, grapefruit and aromatic herbs as a starter. The crab was followed by baked Icelandic monkfish with fresh lumpfish roe, fried white asparagus, Sandefjord white butter and chives.
The main course was a braised roast spring lamb from Lake Mälaren with wild garlic sauce and glazed celeriac. Finally, for dessert, guests could refresh themselves with lemon meringue, citrus sorbet, juniper essence, last year's elderberry, fennel pollen and French meringue. All this was accompanied by three French wines selected by the court's sommelier.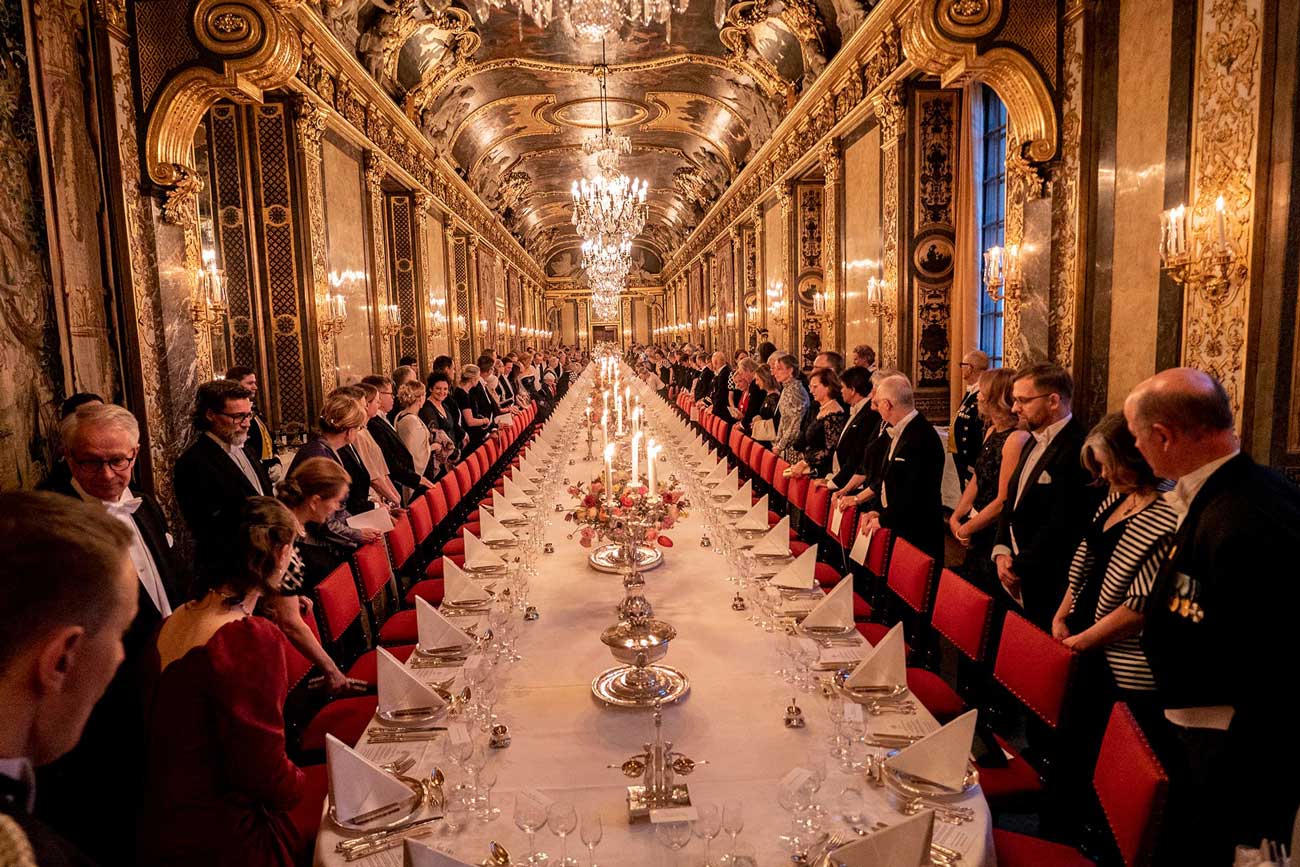 At the table, the King of Sweden had on his right the second vice-president of Parliament, Lotta Johnsson Fornarve, and on his left, Prime Minister Magdalena Andersson, who in turn had Crown Princess Victoria on his left. Victoria's other table neighbor was Finance Minister Max Elger. Among the other guests honored to sit at the table alongside a member of the royal family were Ambassador of Ukraine Andrii Plakhotniuk, Ambassador of Finland Maimo Henriksson, Ambassador of Iceland Hannes Heimisson and Ambassador of Denmark Vibeke Lauritzen.