Lilaafa Amouzou
Africa Health TV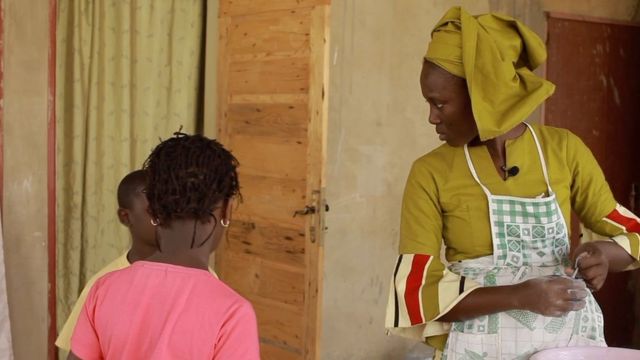 Yacine Bal is now a fulfilled mother. But in 2015 she experienced a traumatic pregnancy.
Then a young bride, under a contraceptive implant and mother of a 7 month old girl who she is still breastfeeding, Yacine Bal is expecting a second child but is unaware of it.
"Unlike my eldest daughter's pregnancy which was very complicated where I was sick all the time, I was in great shape there. I was very active and as the eldest of the family I organized family ceremonies," says Ms. Yacine Bal, who years later is still stunned.
There is no evidence of pregnancy.
No tiredness, no nausea and regular menstruation, the young mother has no clue that she is alive again.
During a family celebration, her mother, Maguette Guèye, noticed a change: "She thought I had a small tummy, very hard. It was barely noticeable but she thought I had fibroids so she insisted I go to the doctor. I didn't want to, but she finally convinced me.
When her gynecologist tells her that she is 25 weeks pregnant and expecting a boy, Yacine Bal is in shock.
The young mother was confident that her subcutaneous implant and breastfeeding her daughter protected her from pregnancy.
Yacine Bal and her husband had made the decision to wait 4 or 5 years before having a second child.
The young woman had therefore opted for this type of contraception, which gave her the security that she would not forget. For the young woman, pregnancy was unimaginable and her body followed her subconscious.
What is denial of pregnancy?
according to dr Sokhna Seck, a Senegalese psychiatrist, denial of pregnancy is a defense mechanism of the psyche.
She explains that "denial is a refusal to accept a traumatic reality. The refusal of pregnancy can be analyzed as the woman's refusal to be pregnant. Maybe because the previous pregnancy went badly and the woman doesn't want to go through that again. »
There are different types of pregnancy denial: total denial of pregnancy when it comes to childbirth. Partial denial when the woman perceives her status as an expectant mother before the due date, sometimes even very late.
dr Abdoulaye Diop, a gynecologist from Dakar, wants to distinguish between a covert pregnancy, where the woman is aware of her condition and hides it, and a denial of pregnancy, where the body participates in the "camouflage" of the pregnancy. "Women who seriously deny pregnancy don't take notice of any signs. In a typical pregnancy, the uterus grows forward and upward. In case of refusal of pregnancy, the uterus grows backwards. The fetus will wedge itself against the spine."
In general, as soon as the mother-to-be finds out she is pregnant and the refusal is lifted, her body changes, sometimes in a very short time.
Yacine Bal recalls: "When I entered the gynecologist's office I had a flat stomach and when I left after the announcement my stomach had suddenly grown. I had the belly of a woman five months pregnant. »
shame and misunderstanding
The announcement of this pregnancy turned Yacine Bal's family life upside down.
The young couple did not then have the means to raise two children.
Yacine Bal is overwhelmed by an avalanche of questions: "How are things going financially? It's an entire organization to review. I was 26 but I was still studying. Everyone knows that raising a child isn't easy, but two…"
The couple, who at the time were living in Dakar with their 7-month-old daughter, had to make the decision to continue the rest of this pregnancy separately.
Yacine Bal returns to her mother in Thiès, a town 68 km from Dakar.
Despite the ridicule of some of the women around her, she can count on a close-knit family to support her in the four months leading up to the birth.
To date, there has been no study of pregnancy denial in Senegal and the African continent.
However, a lack of data does not necessarily imply low prevalence. dr Abdoulaye Diop says he has encountered many cases in his career.
"Partial denial of a pregnancy is less rare than you think. I see a case or two a month in my practice. The problem is that these women are ashamed of not understanding what's going on in their bodies, so they don't talk about it," he explains.
A health risk for mother and child
However, refusal to conceive can affect all women, young or old, from affluent or disadvantaged backgrounds, and even those who have had so-called 'normal' pregnancies.
The delay in the diagnosis of pregnancy, which implies this pathology, can endanger the health of both the mother and her child.
Affected women have no access to prenatal care and therefore do not know whether there are complications for them or for the child.
Not to mention the behavior changes they need to make for a healthy pregnancy, like avoiding alcohol or stopping certain medications.
These women can feel a strong sense of guilt.
"I blamed myself for not taking vitamins like I did with my first pregnancy, for not paying attention to my diet. I also blamed myself for my daughter, who was just a baby," says Yacine Bal.
According to psychiatrist Dr. Sokhna Seck "It is the femininity of these women that is being questioned. They are condemned, they are mocked when they need to be surrounded more than ever. We need to help them understand what in their history has led them to this denial.
Follow-up care is necessary to help them overcome this guilt and bond emotionally with their baby.
As brutal as the news of her pregnancy was, Yacine Bal eventually accepted it and managed to form a solid relationship with her child.
A now 6-year-old, healthy boy, whom his mother describes as particularly stubborn and whom she affectionately calls "fallen from heaven".