After a month of war, not much is left of Maksym's hometown.
Kindergartens, schools, shops, factories, sports facilities and theaters were destroyed. Water and food are scarce. Maksym and his family have little hope of returning any time soon.
They still vividly remember the moment they decided to leave.
"One day a man ran down the street shouting: Evacuate! Says Maksym's mother.
"It's organized in two directions. People ran to save their children and escape from hell," she explains.
Fear was in the air as they piled into a rusty old car and headed to the checkpoint to exit Mariupol. Upon reaching the station, the car staggered and the guards raised their guns.
"We put our hands up and shouted: Don't shoot, the car is broken! said Maksym's mother.
The guards gave the children juice and candy. They tried to persuade Maksym's parents to stay.
"Why are you going to Ukraine? they asked the family. "There's shooting over there, but it's quiet here".
When they got to another checkpoint further down the road, the family heard explosions. As they continued on their way, they noticed that the ground was on fire. They had narrowly escaped certain death.
Eventually the car ran out of gas in Urzuf and the family had to continue on foot until they finally arrived in Slovakia. Finally they had found shelter. But the scars remain.
"Is it an airplane?" Maksym asks his grandmother as the planes fly overhead. "Will there be a boom? »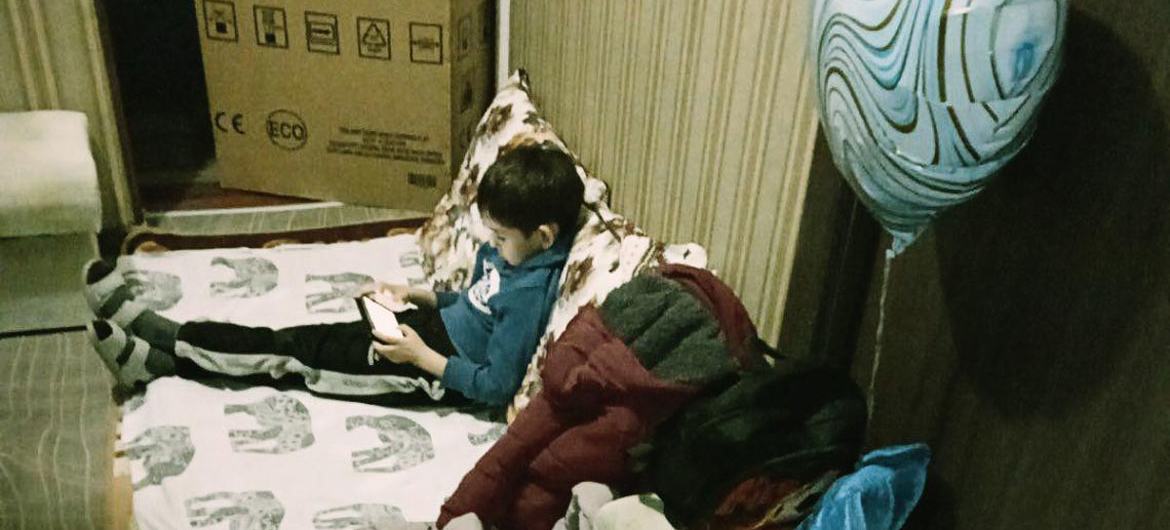 © UNICEF
Maksym and his family had to flee Mariupol in eastern Ukraine.
A month of war in Ukraine has resulted in the displacement of 4.3 million children – more than half of the country's estimated 7.5 million children.
That number includes more than 1.8 million children who crossed the border to seek refuge in neighboring countries and 2.5 million who have now been displaced within Ukraine.
According to the Office of the High Commissioner for Human Rights (OHCHR), 78 children have been killed and 105 injured in Ukraine since the war began on February 24. However, these numbers represent only reports that the UN has been able to confirm, and the true toll is likely much higher.
UNICEF and its partners are working to provide humanitarian assistance to children in Ukraine and neighboring countries.
In Ukraine, UNICEF delivered medical supplies to 49 hospitals in 9 regions – including Kyiv, Kharkiv, Dnipro and Lviv – improving access to healthcare for 400,000 mothers, newborns and children.
The UN Children's Fund continues to distribute water and hygiene items to communities under siege. In addition, UNICEF is increasing the number of mobile child protection teams working in areas of acute conflict from 22 to 50 and has delivered 63 truckloads of life-saving supplies to meet the needs of more than 2.2 million people.
In the coming weeks, UNICEF will begin emergency cash transfers to the most vulnerable families and set up child-friendly spots in key locations across the country.