This is an extraordinary encounter scientists have had in Australia. They stumbled upon a small, three-month-old killer whale in great shape despite having no dorsal fin. The small mammal was with its family in an area called The Patch off Bremer Bay on the south coast of Western Australia. Since then it has become an attraction for locals and tourists who dream of seeing it.
Gemma Sharp, who takes customers on whale-watching boats, said she was surprised by the baby's unique appearance when asked by Australian media. "We couldn't believe it… this tiny little baby showed up and had no dorsal fin. We all had to do a double look to make sure we were seeing correctly."She said.
⋙ Australia: Killer whales free a humpback whale caught in a net
The young orca was named Warnie after former Australian cricket star Shane Warne, who died on March 4, 2022 at the age of 52. Gemma Sharp explained that tour operators and researchers visiting Bremer Canyon liked to name orcas after historical events.
"We were just as devastated as many Australians when we heard the news of Shane Warne's death and we met this baby days after it happened. We sat there as a family and thought we needed help. A really special name for this little orca – Warnie."She said.
⋙ In killer whales, grandmothers prefer their grandchildren to survive
Why doesn't an orca have a dorsal fin?
The reason why Warnie doesn't have a dorsal fin is not known, but there are several possibilities.
This absence could be genetic. It could also be a problem that arose at birth. "Sometimes when the little orcas are born, there are a few difficulties with the process."explains Gemma Sharp. The other family members then try to help the female killer whale give birth. They will help lift the baby out of the womb. Babies are born with the tail sticking out first, then the dorsal fin. Family members do their best to be careful, but they can still do a little damage and over time the fin might wear out."
Without a dorsal fin, Warnie's development could be hampered. But Gemma Sharp is still confident about her chances of survival, he who has been used to this absence from the start.
"It's almost like our big toe to the orca in a lot of ways when it moves. This dorsal fin is very important to their balance and stability. But I think Warnie will get used to it very well and it won't bother him. . he will not see the difference. If it had happened later in his life it would have been difficult because he would have had to relearn how to move and how to swim."She said.
Before proceeding : "So far there are clear differences between Warnie and the other babies. A week ago he jumped out of the water and practiced his tail flick and you could see he had to move his body a little differently than the others. It will be very interesting to see how he adapts to that as he gets older.".
Note that Warnie is not the only finless orca living in the area. A woman in her 20s named Lucky is in excellent health. She is very sociable and can hunt with her family.
⋙ Killing of blue whales by orcas documented for the first time in a study
"The family group works together as a unit to ensure that all family members survive and thrive," says Gemme Sharp. Before graduation: "Maybe in the future there will be an opportunity for them to meet".
Also read: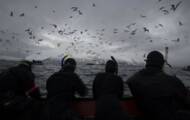 More killer whales in the Arctic as sea ice recedes
Killer whales could be responsible for the disappearance of great white sharks off Cape Town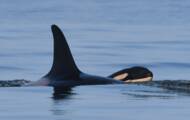 The killer whale that pushed its dead baby for 17 days gave birth to a new calf