children of the world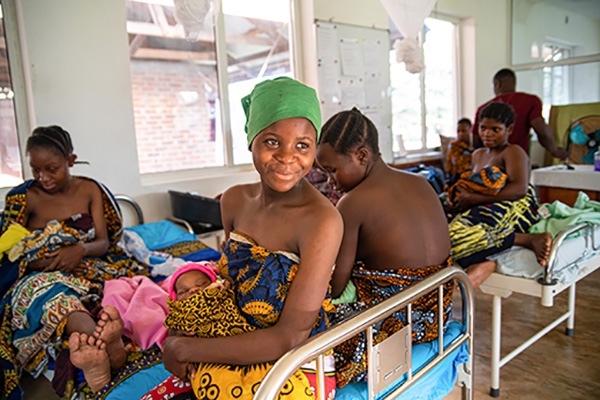 Geneva, April 7, 2022 – On the occasion of World Health Day, Enfants du Monde, in collaboration with the NGO SolidarMed and the Health and Education Ministries of Tanzania, presents a new project to improve the sexual health of young people in Tanzania.
The alliance of 2 Swiss NGOs with specialized and complementary skills
Enfants du Monde, whose expertise in the field of education has been recognized for more than 50 years, and the NGO SolidarMed, specialized in the medical field, are launching a joint project funded by the Swiss Department for Development and Cooperation to improve the sexual health of adolescents in old age from 10 to 19 years in the district of Ulanga in southern Tanzania. Changing young people's attitudes and adapting health services to their needs is at the heart of this project, the first part of a closer collaboration between the two NGOs.
The sexual health challenge in a young country
The population of Tanzania today is estimated at 61 million, Almost a quarter of them are teenagers between the ages of 10 and 19. The good health of this age group is closely linked to their sexual and reproductive health, including sexually transmitted infections and early pregnancy.
However, only half of sexually active adolescents used a condom the last time they had sex*. In some rural areas e.g. 39% of teenage girls aged 15-19 already have a child or are pregnant**. They are at increased risk of preterm birth, birth complications, and maternal and neonatal mortality.
Improving health through education
Young people in Tanzania often lack information on topics related to sexuality, contraception and pregnancy. Sex education is almost non-existent ; Girls, for example, may not know that they can get pregnant the first time they have sex; Contraceptive use is low. Our project aims to improve the knowledge of nearly 15,000 teenagers. Adequate sex education can reduce sexually transmitted infections and unwanted pregnancies***. This makes Switzerland one of the countries with the fewest teenage pregnancies in the world. especially since sex education has been part of the school curriculum for many years.
Active participation of young people to change attitudes
To identify the needs of young people and the barriers and taboos associated with sexuality, Enfants du Monde will conduct interviews in the local language with young people, educators, parents, teachers and the village community.
Based on the analysis of these interviews, our education specialists, in cooperation with trainers in Tanzania, Development of a pedagogical guide for moderators and train them in participatory methods so that they involve the young people themselves, for example by creating radio programs or didactic plays. This approach greatly increases the impact of health education sessions.
Provide youth-friendly health services
There are some sexual health services in rural Ulanga District, but these are unknown to young people or do not meet their needs. The reasons for this are the lack of trained nursing staff, restrictive opening times or the limited choice of family planning methods.
The goal of our partner SolidarMed is to adapt the services of health centers to the needs of young people, for example through the establishment of their own "closed" consultation rooms or the adjustment of consultation hours and the strengthening of the skills of the nursing staff to be able to offer a wider range of services, family planning or screening for sexually transmitted diseases. Young people are also involved in these activities.
*Kalolo A, Kibusi SM. The influence of perceived behavioral control, attitude, and empowerment on reported condom use and intention to use condoms among adolescents in rural Tanzania. reproduce health. Nov 13, 2015; 12:105.doi:10.1186/s12978-015-0097-5. PMID: 26563296; PMC ID: PMC4643513.
**Source: Teenage pregnancies by region, UNFPA Factsheet Teenage Pregnancy 2018
*** 2015 UNESCO Report entitled "Comprehensive Sex Education: New Evidence, Lessons and Practices – Global Study 2015"
Alexandra Bloc, Chargée de communication
communication@edm.ch
Tél. + 41 22 798 88 81
Natel +41 76 567 03 05
Enfants du Monde (www.edm.ch) is a Swiss non-governmental organization based in Geneva. For more than 50 years, it has provided quality education and access to health services to children and mothers in some of the world's poorest countries. In Switzerland and in the countries in which it operates, Enfants du Monde carries out campaigns to promote children's rights and education for sustainable development, with the focus on the participation of children and young people. Enfants du Monde has been running the Swiss quality label ZEWO for over 30 years.
SolidarMed (www.solidarmed.ch) is committed to the health of rural residents in southern and eastern Africa and Hyderabad, India, focusing on five main themes: protecting mother and child, fighting infectious diseases, training health workers, empowering of hospitals and health and community awareness. Projects are developed in close cooperation with local partners such as hospitals, health centers and authorities. In Switzerland, SolidarMed raises awareness of the health emergency of the population in rural Africa and India