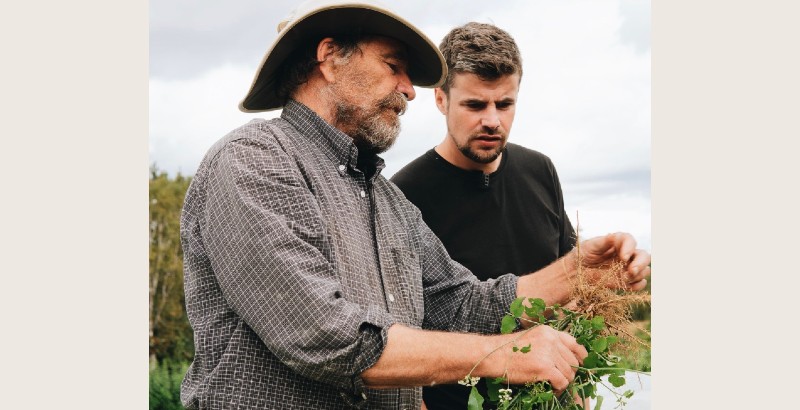 Photo credit: For the family
Arnaud Marchand revealed For the family, a new valuable brand with a web platform whose aim is to share the vision that unites its Quebec restaurants Chez Boulay, Comptoir Chez Boulay and Les Botanistes. "For me, food is there to educate people," says the chef.
He reminds that Chez Boulay will soon be celebrating its 10th anniversary and that this is also an opportunity to show its progress. His boreal cuisine emphasizes local foods, particularly using spices that come only from the harvest. His wish is also to introduce this cuisine to a bistro-style restaurant where gluttony, simplicity and technique mix.
The project is up to date. "The popularity of local sourcing has taken on a new dimension during the pandemic," the chef said in a statement. The importance of moving towards food self-sufficiency resonates more. Consumers are more curious, more aware and want to know where the food they eat comes from. »
put people first
Pour la famille tells stories, wants the different actors in its establishments to know each other and discover those who participate in the restaurants' mission. " We see For the family like a social club for our employees, our producers and our customers," continues Arnaud Marchand. The information can be found in the form of editorial articles, photo reports and a video series.
For example, a portrait of an employee can allow a producer to get to know the whole team and not just the job manager; the story of a marriage proposal can help an employee see the bond customers have with the company; A visit to a producer can show customers who is behind the products tasted…
In the future, the brand could pay tribute to former employees who have been involved in the development of establishments for several years, talk about those who have since opened their own restaurant or even mention restaurants of friend chefs. There might also be travel stories, like the time Chez Boulay cooked for the mayors of New York and Quebec to show off the grandeur of the house. Eventually, competitions could be created to appeal to the general public's memories. "There's no end to it because just with the producers we have a list of 200 to 300 names and we want everyone to find their way! ' the chef emphasizes.
Restore the image of gastronomy
The interviews will be conducted by an independent editor, so Arnaud Marchand expects surprising stories: "I want it to be fun and positive. In this time when the dining rooms have closed several times and some staff have changed jobs, I want to go back to basics, explain the true and beautiful of food and the different experiences. The opportunity would also be to encourage creativity, curiosity and passion for the profession.
The commitment of employees to restaurants should also go beyond salary and fringe benefits. "We want people to be proud to work for the company, which can help us retain or hire new people," adds the manager. We want to show all the work that is done in companies. It's also an opportunity to take a step back and remember why we work. »
Attention to employees is also emphasized: "It is important for us to pay attention to our teams: slow down when necessary and speed up when possible. We act according to the team not to face consequences when members have COVID-19 or when a member leaves, not to maintain a service at any cost but to maintain services that we can do well. »
If the brand is non-profit, the customer should also be encouraged to come to the restaurant because of the values ​​being promoted. "In the long term, it will consolidate an already very solid base and allow you to discover new facilities. There are still people from Quebec who don't know Chez Boulay, and Les Botanistes is still a young establishment, so indirectly a tool for visibility. »
The group's fourth restaurant, which will open next to Chez Boulay in mid-June with a former restaurant employee as managing director, will be added with immediate effect For the family.
Consequences for the family: