The offer pCloud for family makes it easy for everyone you know to use pCloud. In fact, cloud storage is becoming an increasingly practical solution for families, especially to keep photos of special occasions.
Thanks to technology, it's now easier to preserve family memories. Instead of having heavy photo albums that take up a lot of space, just keep them in digital format. For this purpose, pCloud, through its family offer, allows to store them in a smart and safe way.
pCloud: How does the family plan work?
pCloud for the family is a simple formula for Share 2 TB of storage space as well as premium features with 4 separate pCloud accounts. As with a pCloud Premium account, each member has their own lifetime private space to store and manage their files. Family members can't see what others save on their family account.
To the invite a member to join the family plan, easy Go to my.pCloud.com and open the Family tab located in the sidebar. Next, enter the family member's email address. Finally, you must indicate the amount of storage space to grant them and then send the invitation.
data management
Note that the owner of the formula can always manage the storage space each member has in their account. The family offer also makes it possible, among other things, to version documents or view them online, download them remotely, and restore data.
Besides the Files can be synchronized automatically from all devices connected to the cloud storage. Specifically Mac, iOS, Android, Linux and Windows. In addition, the pCloud drive offers the possibility to perform a hard drive expansion.
Storage at a bargain price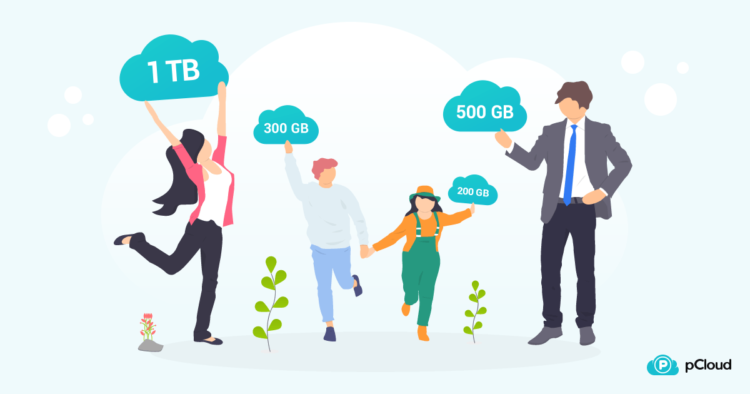 Online storage for families is often via a monthly subscription, the price of which is tiered over the period of storage. But pCloud has opted to set up a one-time payment from the start of the subscription a lifetime price of around 400 euros.
that's hardly 58 cents a month for those who keep their data for at least 50 years. Therefore, it is obvious that the plan for the pCloud family positions itself as the best online storage solution of the market.
data sharing and security
The pCloud solution for the family not only makes it easier to back up data, but also makes it possible to send and just share download links. Additionally, backing up these files is the main motivation for using a storage system for most internet users.
This is a pCloud pledge. This offer includes storing files on different servers in 5 copies. In addition, you benefit from a AES-256 encryption and an additional encryption option. The TLS/SSL channel is completely secure.