by Charlotte Vanbever
A few days ago, our worthy representative of "Top Chef" opened his restaurant Nono, Emotion and Sharing, at his home in Liège.
Arnaud Delvenne then received us in full preparation, with a smile on his face and excitement in his heart. This place also tells the story of this tattooed, sensitive and lovely chef.
The restaurant you just opened is called Nono, a name full of symbols…
It was obvious. This name brings me closer to my mother (deceased, editor's note), who called me that. But that had nothing to do with Italy, but because as a child I didn't bend my knees, but walked like Nono, the little robot! And I have a fondness for Italian cuisine and the "Nono" in an Italian family is what brings people together, it connects. What better than this name to create something around emotions and sharing? That's what this restaurant wants.
Italian cuisine, is that what you always wanted to do?
The simplicity of the product and the complexity of the taste drew me to Italian cuisine. These are products that don't require much work to showcase. For me the best kitchen in the world! It is the cuisine that most resembles me: simple and at the same time complex in taste.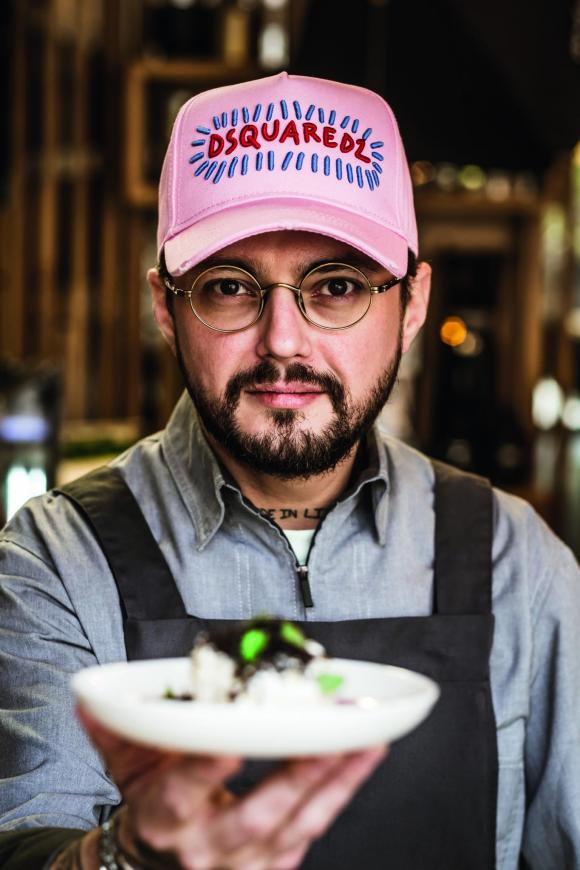 Photo credit: Xavier Janssens
So what's your favorite dish?
Pasta Bolognese. Actually for a stew. I find it extraordinary: some cooked, good meat, vegetables, pasta, some parmesan and that's it! (Smile)
Will this be your signature dish?
(laughs) No, it's a parmesan soup. It's something very simple but I don't want to throw anything away, it's made with parmesan crusts, white onions and a little potato, a little cream and chicken broth. It's something calming. I like that about eating.
How long have you imagined this restaurant?
This is a project that was offered to me even before Top Chef took shape. I was still working at the Hotel Van der Valk in Liège. I said yes to the proposal because Albert, who is now my partner, had helped me with my first restaurant in the past. It's an honest return to something that can work and that we both enjoy. I was dying to rediscover that taste for food, that touch to go back into the kitchen.
And actually be your own boss?
Yes that's it. It's also complex in my head: I don't really like the rules. I follow them but I don't like them! I don't really like authority either, that's why I quit school, that's why I had a lot of problems. With my brother we were pretty turbulent. On the other hand, I found myself as a prison officer because I like to have a framework, but I don't like having things forced on me. And so we had to open a small quiet restaurant here, at the base, a "salad bar". And then I went to Top Chef and the project matured.
If I have the talent and desire to succeed today, it's thanks to Glenn Viel, my brigade commander in Top Chef.
Because Top Chef made you see things differently? Especially when you have a talent like Glenn Viel as a squad leader?
Yes. And then it also allowed me to do an introspection of my life. I will soon be 37 years old, my mother died at the age of 43. We relate our lifeline to that of our parents. My mother's lifeline was very short. So mine is also very short from my point of view. I thought to myself: "Do it!" If I screw up, it doesn't matter, there will always be time to start something else. But I won't plant myself… I hope! (laughs) I have surrounded myself very well with a great team, all young people, I have my best friend who will be with me every day and Albert who will be my structure because I need to be channeled. I'm much better surrounded than when I opened my first restaurant. My mother's illness prompted me to open my first restaurant. It went downhill, but that's no big deal. Then we start again. I hope this one will be the start of a great story!
What did you learn in Top Chef that will be very useful to you here?
Getting to the point is what Glenn taught me. And look inside yourself. Cooking isn't a job for me, it's a passion. To look into the memories, let's build another kitchen. We put our courage into it. If I have the niaque and the will to succeed today, it's thanks to Glenn. He was actually a brother, he motivated me, he pushed me. He pushed me to my limits. I almost gave up twice.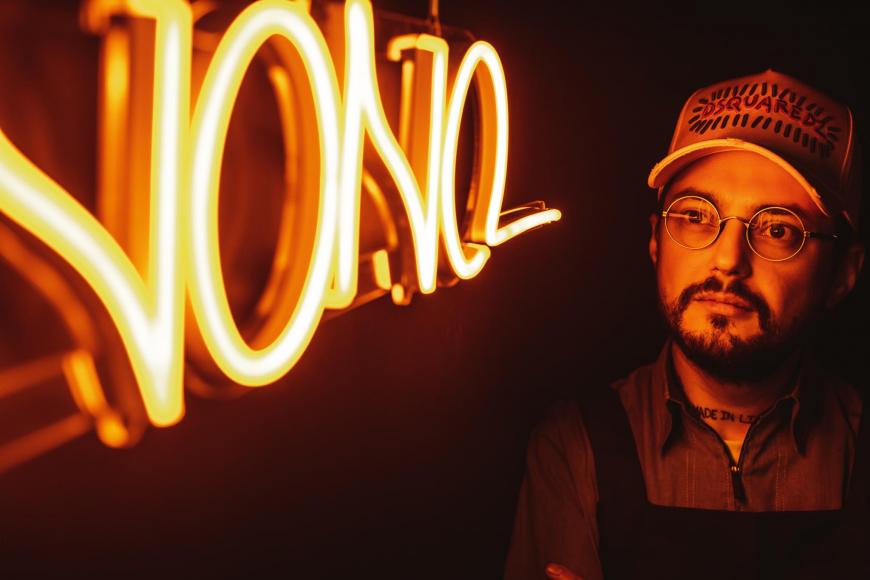 Photo credit: Xavier Janssens
And there's also the Nono logo, with that chef in the hat…
When I saw the first episode of Top Chef she had this hat and these dark glasses and I was like, why not play through everything? And besides, the hat hides a very ugly hairdo! (laughs) It allows me not to go to the hairdresser… And then a hat is clearly visible.
You can also be recognized by your numerous tattoos…
I have about thirty. I started very late, 4 years ago. I went to the tattoo artist every week. I wanted every tattoo to tell a story. The first was the eagle, it is royal, beautiful, and flies over people, examining them. Then I had the tiger. There's also the owl, because my mum used to call me "the owl" when I was little because I had two ears of corn on my head when I got up in the morning and wore very large glasses! I've also endorsed acronyms, these are the ones my mother wore as pendants, I have her zodiac sign too… And I've got a '13' tattooed on me: it's a 'private joke' between 'Top Chef' contestants'. It was Louise who tattooed us with a needle like we were in prison one night at that windy party over there!
It's the crazy atmosphere at Top Chef!
I didn't feel like I was in a competition. For me it was a summer camp. It was fantastic. "Top Chef" is indeed the test of his life.
In detail
Ninth
Place du Vingt-Août 22, 4000 Liège
Phone: 04/ 272 30 50
Info: Reservation@nonoresto.be
nonoresto.be
>> Discover the full interview with Arnaud Delvenne this Saturday in your Max magazine, available in bookshops in the Sudinfo newspapers or by clicking here.